10x Rule by Grant Cardone for the party rental business.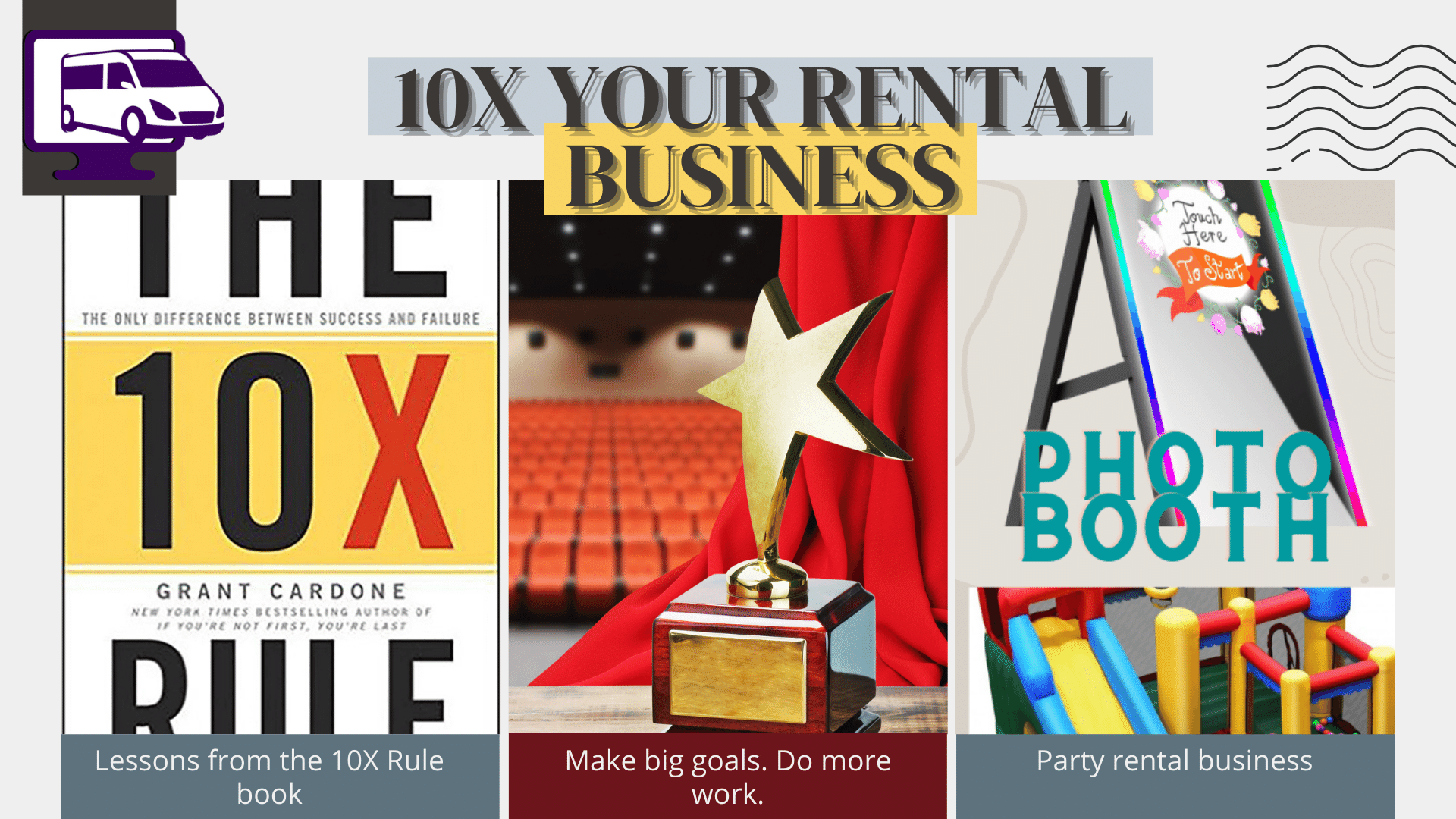 The main takeaways from the 10X Rule by Grant Cardone are that we underestimate the amount of energy needed to complete goals. Also, we set goals that are not big enough.
Cardone points out that we should do 10 times more work than we think we should because we
underestimate the amount of effort needed to accomplish a task
should strive to outperform competitors
should challenge ourselves
put ourselves in a better position.
The other main part of the 10x rule is to set bigger goals. Goals that are 10x the goal you have now.
This article will take the teachings from Grant Cardone, the 10x Rule book, and apply them to the party rental business.
Let's say your goal is to rent party rental products for someone's special occasion. Maybe you went to a party and there was a photo booth or a bouncy house. You thought that this is a great business and you decided to get into it yourself.
The bouncy house at the party was 400 dollars for 5 hours. This is a great deal since the hourly average wage in America is $30.06 . If you rent out bouncy houses as a business that's income of around $50 dollars an hour (including the subtraction of expenses like gas )
Put in 10x the amount of effort to get party rental jobs
If you think you are going to sit back and have people call you to rent your bouncy house that's probably not going to happen. You have to make your business known around town. It can be difficult to do this but this article will give you some tips.
Make big 10x goals for your party rental business.
The other part of the 10x rule suggests to make your personal goals more challenging and meaningful. You may not even have a goal about how many rental jobs you want to get. But let's say you do. If your goals are too small you need to raise them up.
Let's say your goal is to rent out a bouncy house once a week. Cardone would suggest to 10x that. Can you even imagine renting out a bouncy house 10 times a week?
10 times a week would equal $4,000 a week and $16,000 a month.
It's possible that your goals are higher or your goals are lower. Cardone's point is that if you don't start thinking about making higher goals you are going to be in the same position you are now.
Here are 2 reasons why Grant Cardone says to make bigger goals and how they relate to the party rental business.
When big goals are more meaningful you put more effort into accomplishing them
Make bigger goals for getting more rental jobs and you will do more work and would be happier.
If you fail on these big goals you still will accomplish more than when your goals are small
Here are some things you can rent out when you make a party rental business website with RentalSetup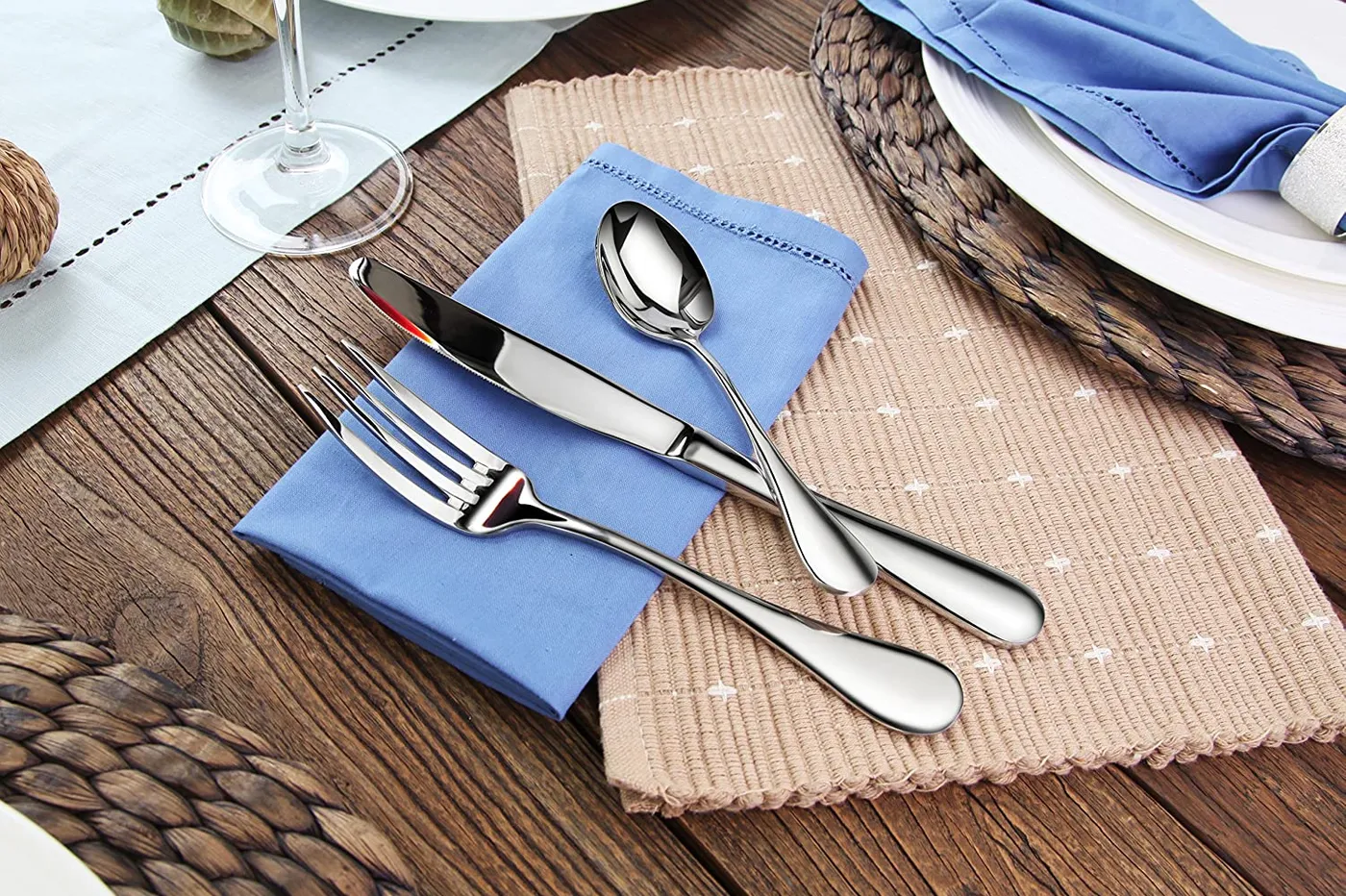 Dinnerware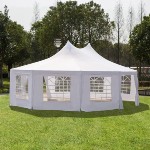 Party tents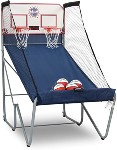 Games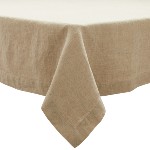 Linen
When it comes to renting out bouncy houses as a business we might not be interested in the business if we don't have an exciting large goals. If the goal is small it may have a negative psychological effect. A small goal can be like 1 bouncy house rental job a week. This can make you lazy and cause trouble for you.
You get more excitement in the experience if you try to achieve greater things.
Let's say you fail to achieve that 10 mark, you can be happy with a lesser number like 8 rental jobs because you've made money and got more rental jobs. If you have a smaller goal you will most likely get less rental jobs.
"Coming up short on a 10X target accomplish[es] more than coming up short on one-tenth of that goal? Let's say that my original aim was to make $100,000, which I then changed to $1 million. Which of these goals would you rather come up short on?"
Cardone's saying it's ok to come up short if you have bigger goals. when you fall short on big goals at least you have the mind set of achieving more and if you fail to achieve the big goal you will still come out on top because you probably achieved more when you did not have the 10x goals.
Do 10X the work to make your event rental business a success.
Don't forget about the other part of the 10x rule. That's putting in 10 times the effort to accomplish your goals.
cardone said
"As I look back over my life, I see that the one thing that was most consistent with any success I've achieved was that I always put forth 10 times the amount of activity that others did. For every sales presentation, phone call, or appointment others made, I was making 10 of each."
To be successful in the party rental business you can't just have big goals, you have to put in the effort to accomplish them.
To succeed in the party rental business you must do things like
Complete bouncy house rentals or other party supply jobs
And getting new customers.
The more jobs you complete successfully the more chances word would get around that you are the person to go to supply bouncy house rental needs.
Some effort you can make to market your party rental business is.
Put up flyers in your neighborhood.
Put ads in your newspaper..
Knock on doors of a neighborhood and let them know that you are available to supply their party events needs.
Make a website
Make facebook posts
Make an ad on craigslist
They key is, the more people that know what you offer, the more chances you will get to accomplish your goal. The 10x goal in our example is 10 party rental jobs a week.
People want to celebrate their special occasions and you are providing away for them to have a fun time and they will appreciate you.
Make a party rental website for your rental business
If you want a way to get more customers you should own a website that displays your products.
Here at rentalsetup.com we have a convenient way for you to build a party rental website. There's a free 30 day trial. During those 30 days you can upload your rental products and have customers schedule when they will use your rental items. You will be able to accept payments and get a free custom domain after your 30 day trial.
Advantages of getting a website
Increase your chances of getting party rental jobs
People can find you from google. A customer can type in to google "rent a bouncy house near me" and your bouncy house website will show up.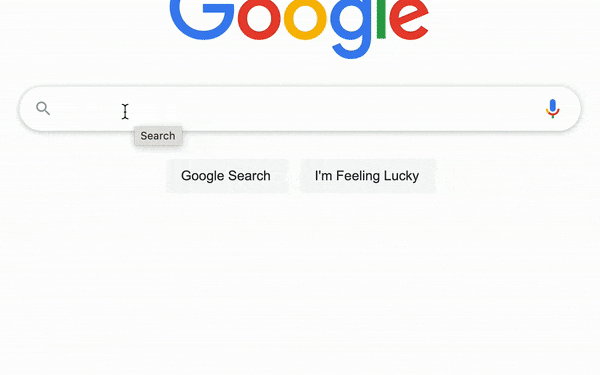 When you have a website people will be able to find your site when they do google searches
10x rule summary as it relates to the party rental business
In this article you saw you can apply the principles that Grant Cardone shares in his book The 10X Rule: The Only Difference Between Success and Failure to the party rental industry. Cardone tells us that top producers make big goals and performs "massive actions" to achieve these goals. You read some tactics you can use to help make your party rental business succeed. If this article gave you rental business motivation come back for more.
RentalSetup is a web based party rental software that can help you start an event rental business online.