Rental assets
Rental assets are products that can be used to make money for you while you rent them out as a renter. Assets are something of value. When you have something of value people are willing to exchange their resources or assets (money) for your rental asset
You should buy rental assets to make money. You will be providing a valuable service to your customers and they will be willing to reward you with money.
Why would someone want to rent something?
The biggest reason why people are willing to rent something instead of buying the item is the amount of savings that person will get. If the customer can pay only a fraction of the price to use an item they will surely be happy.
Another reason why customers are willing to rent things are events. Certain events can occur where a large asset is only needed for a short period of time. These events could be anything from happy party events, corporate events and also natural disasters.
A fun way to get into the rental business is to provide material for party events. There are all sorts of things to rent out for parties. Like games, rides and furniture. If someone is looking to make a party for a special occasion they can buy all the material themself or they can rent the material and save money.
Just a quick example
Let's say parents want to throw a party for their kid and they want to make it into a special occasion. They can buy a bouncy and an arcade-like game that could cost over $2,900. But if they rent them from a renter it would cost them around $500.
Let's break it down. Let's say this bouncy house costs $2,000 and this basketball game cost $900. The total cost to the person that wants to use them would be $2,900.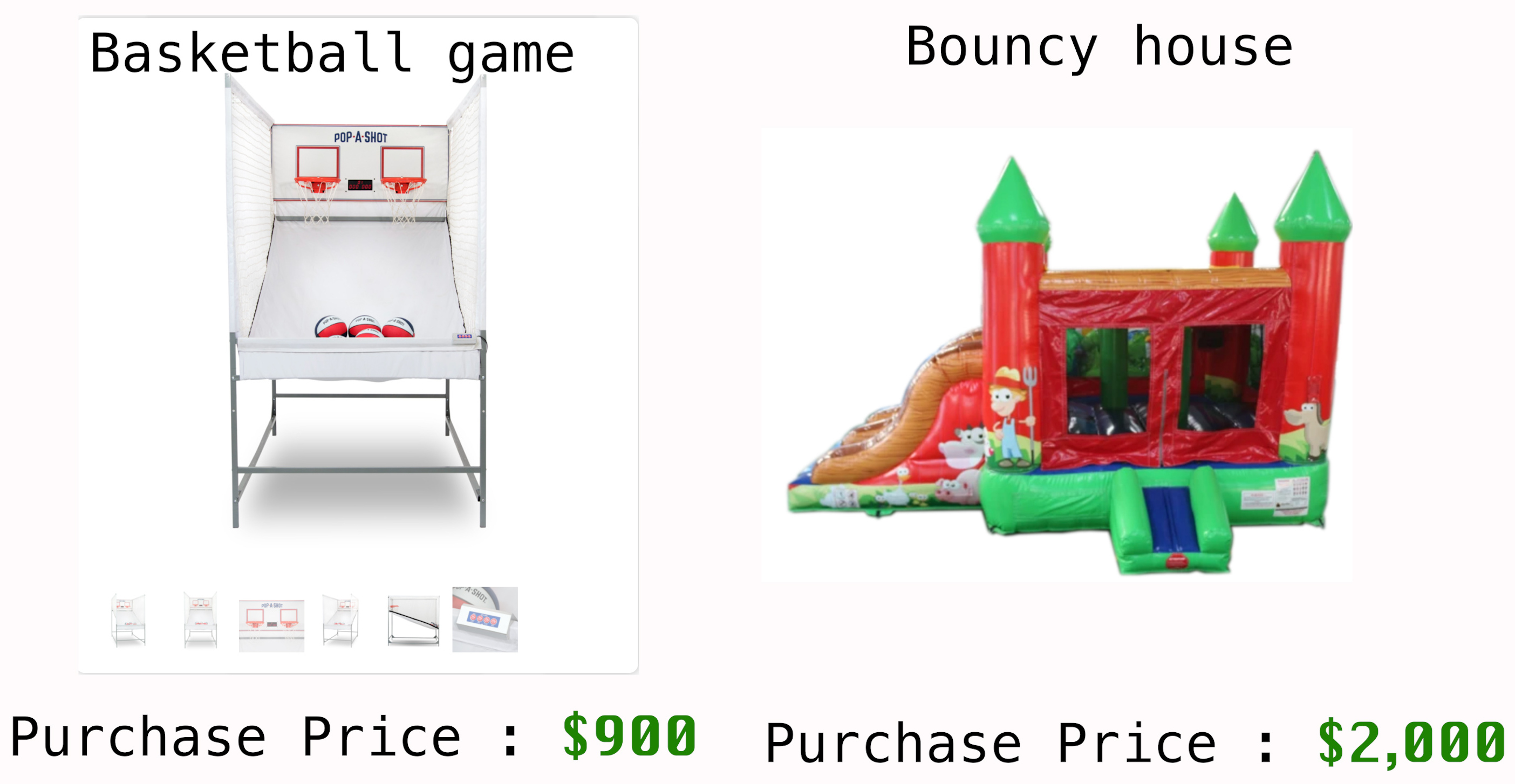 But if they rent them from a renter the total cost to them will become $500. They would be saving more than 80%. (500/2900 = 17%)
This example explains why starting a rental business is useful for society and why it's needed. You will be providing a valuable asset to your customer and creating a win/win exchange. This means that both parties in the exchange will be happy and winning.
You might be asking how you as a renter can make money. It looks like just the customer is getting the benefit through savings.
Here's the thing if you rent out these items more than 7 times, after that you will be making a full $500 every time you rent them out.
Once you paid off the purchase price you will be making 100 % profit on the rental jobs.
After you rent them out 7 times the items would be paid off, remember the items purchase price was $2,900. That's $3,500 in revenue. Since the amount you made from the rental jobs is more than the purchase price you can now enjoy making pure profits.
If you rent them out 6 days out of the week that's $3,000. That's $500 dollars a day.
Wouldn't you like to make $500 a day?
Lets say you rent them out 3 times in a week for different parties. That's $1,500 dollars in one week.
Did you know that the average weekly salary in the USA is no more than $1,500? So just renting these items out just 3 times a week will make you richer than the average American.
You can rent out more expensive things or rent out cheaper things but on a more frequent basis to increase your income. Or you can raise your prices for the rental assets you have already and do less jobs.
If you want a way to create more rental job rentalsetup is here to help you. With rental setup you will be able to create a website and have customer check out your products.customers will be able to reserve your products and send you payments. You can start now for free.