Updated : .
Bouncy House Rental Business: Some Tips on starting
Are you looking for a fun and exciting business to start? A bounce house rental business might be just what you're looking for! In this article, we will discuss some tips and tricks that will help you get started.
We will also introduce you to party rental software that can also be used as a bouncy house rental website builder that can make your life a lot easier. So, what are you waiting for? Start making an income by renting out bouncy houses!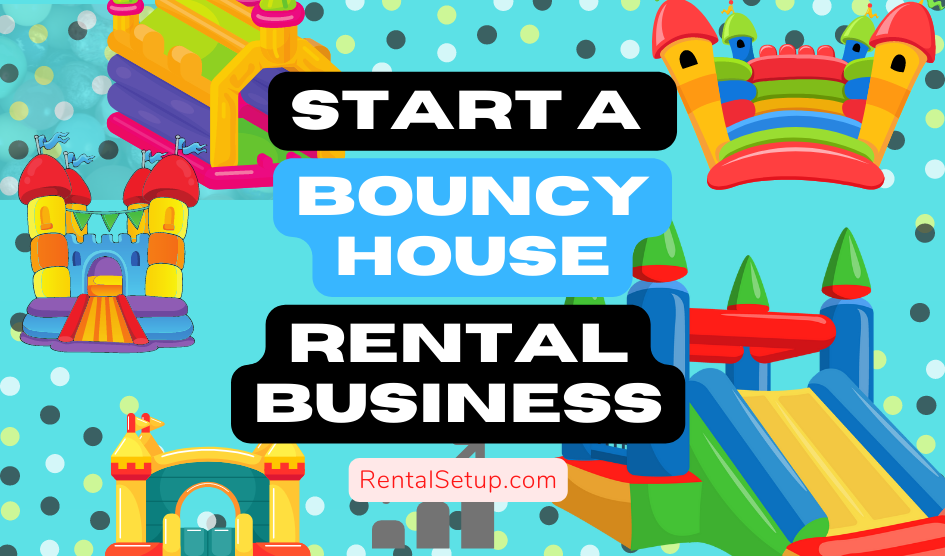 Here are some tips on how to start a bouncy house rental business:
Tip 1 : Buy a bouncy house that is right for your circumstance.
You will need to invest in some bounce houses. You can either buy them new or second-hand.
If you want to buy them second handed you can go to second hand market places that have sellers in your area like Craigslist and Facebook MarketPlace. Since you will be contacting sellers in you area you will be more likely to save on shipping costs. You can also look for reputable sellers online and shop at their website.
Make sure to do your research before making a purchase. There are a lot of factors to consider, such as size, weight, and price. You'll also want to make sure that the bouncy house you select is durable and made from quality materials.
What makes a good quality material for a bounce house?
The material of the bouncy house is important because you want it to be durable. If you're going to be renting out your bouncy houses on a regular basis, then you'll need something that can withstand a lot of wear and tear. There are many different materials that can be used for bouncy houses, but some of the most common include PVC, vinyl, and nylon
Look for bouncy houses made from PVC or other heavy-duty materials. You should also check the weight limit to make sure that it can accommodate the number of users.
You'll also want to make sure that the bouncy house you select is big enough for the number of people you plan on renting it to.
How to come up with money to buy your first bouncy house?
If you need help getting money to start your bouncy house business you can work retail jobs until you have enough capital or look into small business loans. You could also start a GoFundMe or Kickstarter to get help from friends, family, and strangers who want to support your new venture.
You can also search for people who are willing to invest in your business. This could be done through family, friends, or even strangers. Offer them a percentage of the business in return for their investment. This could help you get the bouncy house business off the ground without having to take out any loans.
Start off small by getting a lower cost bouncy house to increase your chances of making a profit. You should also research the market in case you need to change your prices. Always try to get feedback from customers so you can improve for next time.
Tip 2 : Make sure you have a storage place for your new bounce house.
If you don't live in a place that has a place to store your bouncy house , then you might want to consider renting a storage unit. This will ensure that your bouncy houses are always in good condition and ready to be used.
You can keep a bouncy house outdoors when it's not being used. They fold up and become smaller and If you have a backyard you can store them outside but make sure to put a tarp over them.
If you have a garage or shed that would be ideal.
Tip 3 : Make sure you get a van or truck or other form of transportation to rent out the bouncy house.
You will need to invest in a van or truck for transporting the bouncy houses. If you can't afford transportation means right now you can rent a vehicle on demand when the bouncy house rental job comes in.
One way you can try and save on costs is to look for a van or truck that's already being used for other purposes. For example, if you know someone who has a moving company, they might be willing to let you use their van or truck for your business. You can also try looking for deals on rental vans or trucks. You can also buy a tailor that you can attach to your current vehicle.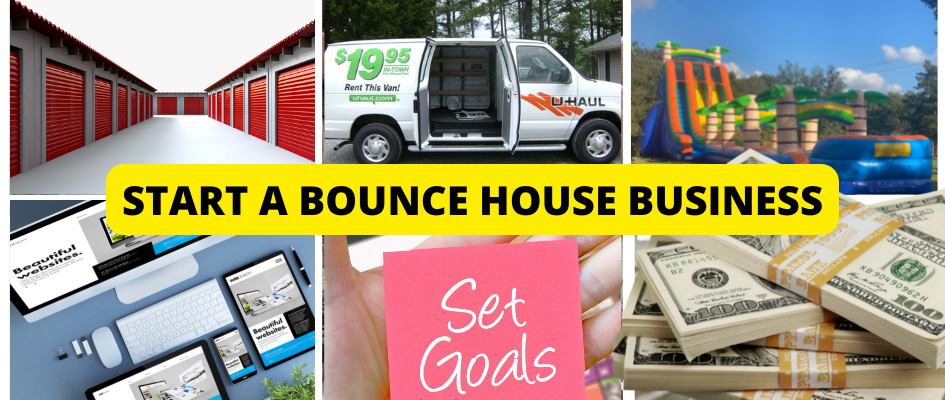 Tip 4 : Get a website setup to help you get customers
You can create an online presence by creating a website with RentalSetup . Learn about the strategies you can use with our tools to help you increase site visitors which can increase your customer base. Some strategies you can implement to get more site visitors are doing Search Engine Optimization and paying for ads with Google Ads and other ad platforms.
Party rental software like RentalSetup can help take your bouncy house rental business to the next level. This party rental software offers a wide variety of features to help you manage your business more efficiently. With party rental software, you can easily keep track of your inventory, customers, and bookings.
You don't need to download the software. You just go to the rentalsetup.com website and signup with a free 30-day trial. Then you will be able to upload your bouncy houses and have customers view your products.
You can increase your income by having customers find you online and book your bouncy houses for their parties or event.
Tip 5 : Set your goals and business plan
Write down your goals for how many customers you want to get in a month. Making goals is an important part of any business. You need to set goals so that you know what you are working towards. For a bouncy house rental business, a goal could be to get X number of bookings per month.
To help you achieve your goals, we recommend using party rental software like RentalSetup. This party rental software offers a wide variety of features that can help you manage your rental business more efficiently. The software can also be used as a party rental website builder. customers will place orders on the frontend and you can keep track of your inventory, customers, payments, and bookings on the backend. You will be able to improve your customer service by using our rental management and order management system.
you will need to track your progress and adjust your goals as necessary. This is an important part of any business. You need to make sure that you are making progress towards your goals so that you can continue to grow your business. software like RentalSetup offers a variety of features that can help you track your progress and make necessary adjustments.
When you make your goals or a solid business plan you should figure out what type of equipment you need, how much you'll charge for rent, and how you'll market your business. You also need to make sure you have the proper insurance in place to protect yourself and your customers.
Once you have all of that sorted out, it's time to start renting out your bouncy houses! To get started, simply reach out to local event planners and businesses who may be interested in renting your equipment.
With a little hard work and dedication, you can be successful in the bouncy house rental business! Just remember to always put safety first and have fun!