Created : .
Looking for a web designer to rent out inflatables like bounce houses and obstacle courses?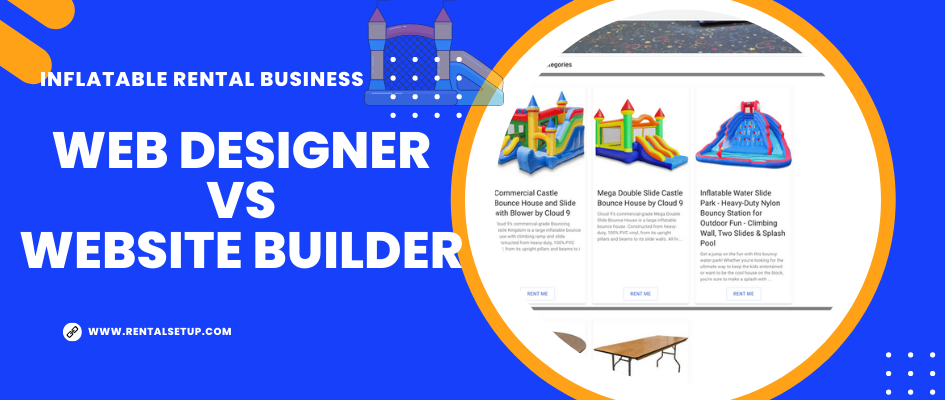 There are so many web designers out there and it can be hard to know who is good and who is not. If you want to find a good web designer for your inflatable rental business, you will need to do a lot of research. You will also need to get a web developer that can implement features with code that would work like a rental inventory software on the backend.
A rental inflatable business needs a lot of things from a website in order to run smoothly. A website for a rental inflatable business is not a simple task. Most people have no idea how much work goes into coding all the features that are needed for such a website. After you meet with your website creator, you will most likely have to wait months or years to get a website that can do everything you need it to do.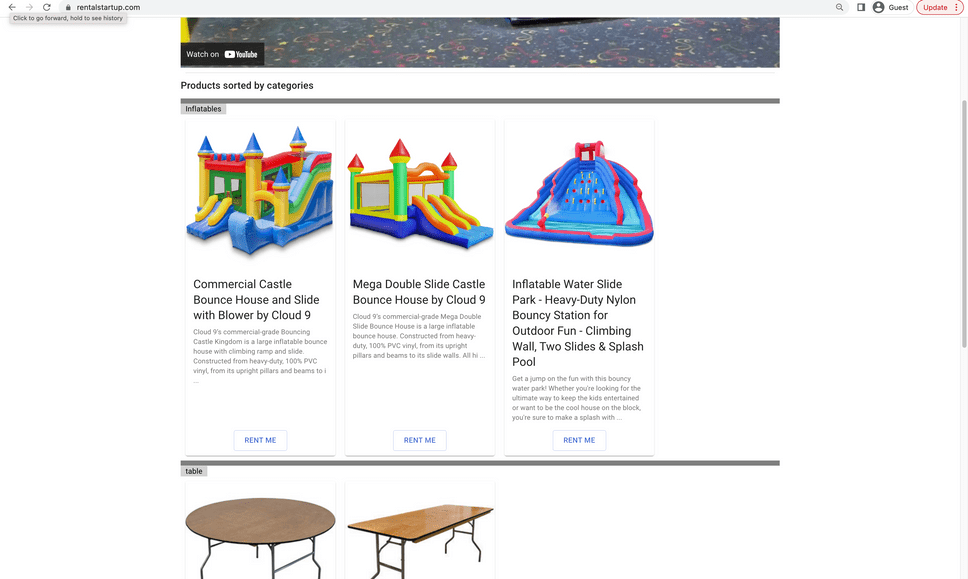 The most important thing to remember when you are looking for a web designer is that they need to understand your business. They need to understand what you are trying to achieve with your website and they need to be able to create a website that will help you achieve your goals. If you find a web designer that does not understand your rental business, then you will likely end up with a website that does not work well for you.
Building and managing a website for your inflatable rental business can also be a costly endeavor. Not only do you have to pay for website development, but you also have to pay for hosting, domain names, and other ongoing costs. In addition, if you want to add features needed for an inflatable rental business like online ordering or job management, you may have to pay even more.
Get a ready-made rental website.
Upload your inflatables and
have customers send you payments and rental jobs online.
Free 30-day trial
Once you have found a web developer, you might need to pay them upfront for their services. This can cost you thousands of dollars, which is a lot of money for something that you may not be able to use. If you are not careful, you could end up wasting a lot of money on a website that does not help you run your business.
Use a website builder dedicated to making websites for renting out inflatables
If you are looking for a web designer to make a website to rent out inflatables, you may want to consider using a website builder like the RentalSetup platform. This can be a good option if you are not familiar with web design or if you want to save time and money. Website builders can be very user-friendly and can provide you with everything you need to create a professional website.
When using a website builder, you will not have to wait for a web developer to finish the entire website. You can easily use the features that are important for your rental business, such as a scheduling system and an order form for customers.
Rental Setup provides several ways to customize how your site works
Accept deposit settings for your inflatable rental business.
When you're running your inflatable rental business, it's important to have a system in place for accepting deposits from customers. This ensures that you have the funds available to cover any damages that may occur during the rental period. There are a few different ways to accept deposits, including charging a percentage of the total rental cost or setting a fixed rate deposit for all jobs. If you want to have these options available, you would need to tell the developer you hired to program it into your website. However, with RentalSetup, a variety of custom deposit options are available when customers place orders on your website. This makes it easy to set up the perfect deposit system for your business, so you can focus on more important things.
Use Rental Setup as a rental inventory software for your inflatable business
Some ways we help you manage your inventory :
Prevent the overbooking of your inflatables.
See where your inventory is on a map.
See rental jobs in a list with your rental products.
RentalSetup is the perfect rental inventory software for preventing the overbooking of your inflatables. With RentalSetup, you can see where your inflatables are on a map, and see rental jobs in a list with your rental products. This way, you can easily keep track of your inventory and ensure that you don't overbook your inflatables.
Viewing your rental jobs on the list we provide will keep you organized with all of your upcoming rentals.
You are able to filter out rental jobs that are based on payment statuses like fully paid or partially paid. You will be able to see upcoming rental jobs in a calendar or list style and see the address of the rental job.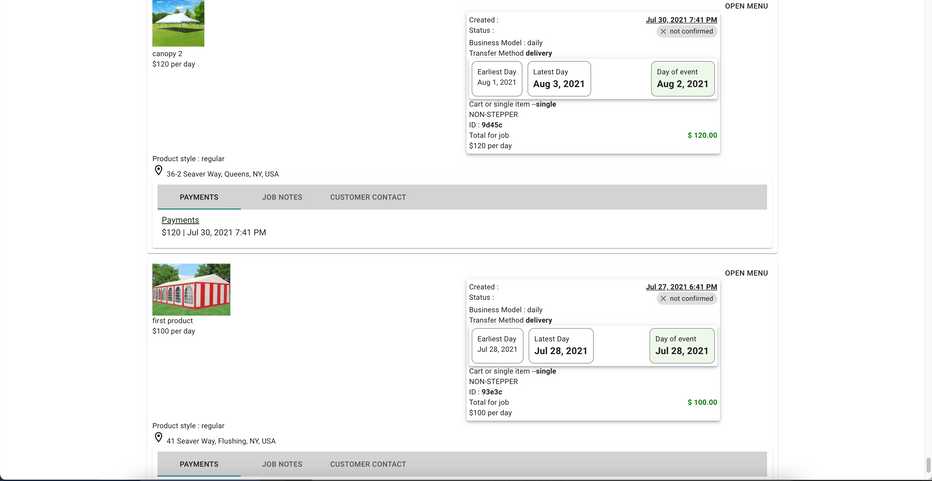 If you have been looking for a web designer to create your inflatable rental website you should reconsider and look into using a website builder dedicated to renting out merchandise like RentalRetup
As you can see there are a lot of things to think about when you are trying to build an inflatable rental business. You need to find the right products, price them correctly, and create a user-friendly website that can help you manage your inflatable rental business. And if you're not a web developer, that last part can be especially challenging. It can be tempting to outsource this task to someone else, but that can be a mistake. Website builders offer a much more affordable and user-friendly option for creating your inflatable rental website. With a website builder like RentalSetup you can upload your inflatables and start getting jobs. Building your own inflatable rental website doesn't have to be complicated or expensive. With a website builder, you can get online quickly and easily - and start generating leads for your business.
RentalSetup is the leading online platform for renting inflatables. With RentalSetup, you can upload your inflatables and start getting jobs in minutes. We provide an easy-to-use platform that allows you to manage your inflatables, schedule rentals, and track payments. We also offer a variety of features that make it easy to find customers and grow your business. With RentalSetup, you can get started today and start earning money tomorrow. Learn more about how RentalSetup can help you grow your business by visiting our website or contacting us today. Thank you for considering RentalSetup as your go-to source for renting out inflatables as a business!
---