updated : .
Get paid to talk about renting out equipment.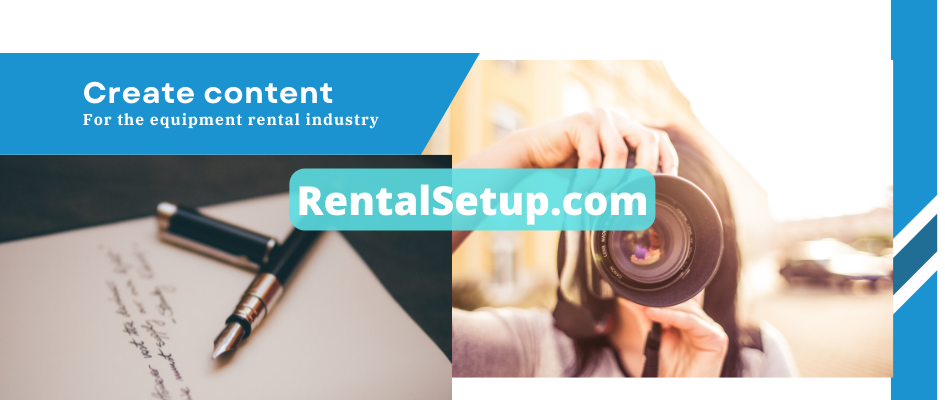 Do you have experience renting out equipment? Or maybe you are someone that is interested in the rental equipment industry and wants motivation? If so, we want to hear from you! Here at RentalSetup, we are looking for people who want to share their story and inspire others to get into the rental business. We are willing to pay $25 to $100 for your content, depending on its quality and length. So if you're interested in sharing your story, please get in touch!
Maybe you are thinking about renting out something like a bounce house or other type of rental product but you need extra motivation to go on your first few jobs. If you share with us your experience we are willing to pay you.
You could potentially earn some good money by videoing yourself going on your rental jobs. All you need is a camera and to be willing to share your experience with others!
If you want to write something like a blog post instead of a videoing , we are interested in that too. Make sure to include tips and images pertaining to your equipment rental jobs.
You would be doing a good deed
When you provide your content it would be helpful for those of us who are new to the rental business. It would be a great way for new entrepreneurs to learn from others who have been in the business for longer. So you would be helping out society.
It can be difficult to know where to start when you're first getting into the rental business. There are so many things to think about!
We are entrepenuers ourselves and we want to help others get their start in the rental industry! So please, if you have a story to share, get in touch! We look forward to hearing from you.
Benifits of creating content for your equipment rental business
You can create content for your customers and you can create content to teach others.
One way you can ensure that your potential customers are happy with the service you're providing is by creating video content that shows how you do your rental jobs. This could include loading or purchasing your rental product, as well as setting it up at your customers' location. By providing this type of content, you will be able to demonstrate your expertise in the field and give customers a better idea of what to expect from you.
We ask that you don't duplicate content on your own media outlets. You can still create content for yourself but it shouldn't be the exact same content you give us. For example if the main content you give us is specific towards a certain rental job, please don't share that specific content on you own media. It is bad for marketing to have duplicate content.
Benefits for sharing your content with us
Promote yourself: you will have the option to display your contact information such as phone number, address, and website.
A centralized platform where we have tips for entrepenuers interested in the rental industry. People viewing your content will be seeking out information pertaining to what you are contributing such as your tips pertaining to startting and running an equipment rental business. Think of this platform as the place where people in the rental industry can share their rental jobs experience and tips.
By sharing your content with us, you will be able to reach a wide audience of people who are interested in the rental industry.
---