Created : .
Inflatable Rental Business: Everything You Need to Know.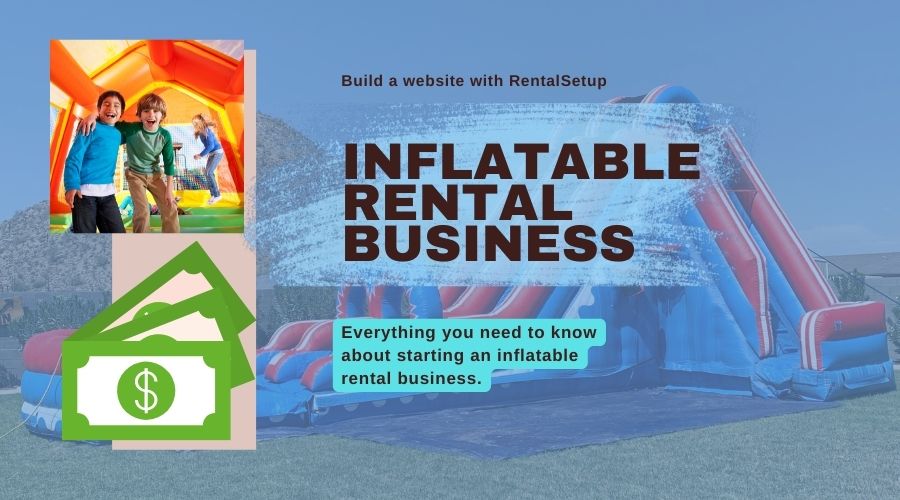 Are you looking for a new business venture? If so, then an inflatable rental business might be the perfect option for you! In this blog post, we will discuss everything you need to know about starting up and running an inflatable rental business. We will cover topics such as what type of equipment you need, how much it costs to start up, and how to market your business. So if you're ready to jump into the inflatable rental business, keep reading!
One of the first things you need to do when starting an inflatable rental business is to purchase the necessary equipment. This includes inflatable bounce houses, slides, and other inflatables. You will also need a generator to power the inflatables, stakes, sandbags, or water weights to anchor the inflatables, and a trailer to transport the inflatables.
The cost of this equipment can range from hundreds to thousands of dollars, depending on the size and quantity of inflatables you purchase.
Tips on buying a new Inflatable for your rental business
If you're thinking about investing in an inflatable entertainment object like a bounce house for your business, you'll want to head over to the Overstock website. They have a wide selection of inflatables for sale, with prices ranging from $200 to $3,000. Some of the bounce houses have different themes, like slides or rock climbing, and some are taller than others.
Generally speaking, the more material a bounce house has, the more it will cost. However, taller bounce houses tend to look more impressive and provide a better experience for customers, so it may be worth it to invest in a higher-quality inflatable. With so many options available, you're sure to find the perfect bounce house for your business at Overstock.com.
You should consider the type of clientele you want to serve. If you're planning on using it for larger events, you'll need something that can accommodate a high volume of guests. Finally, you'll want to choose an inflatable that fits your party's theme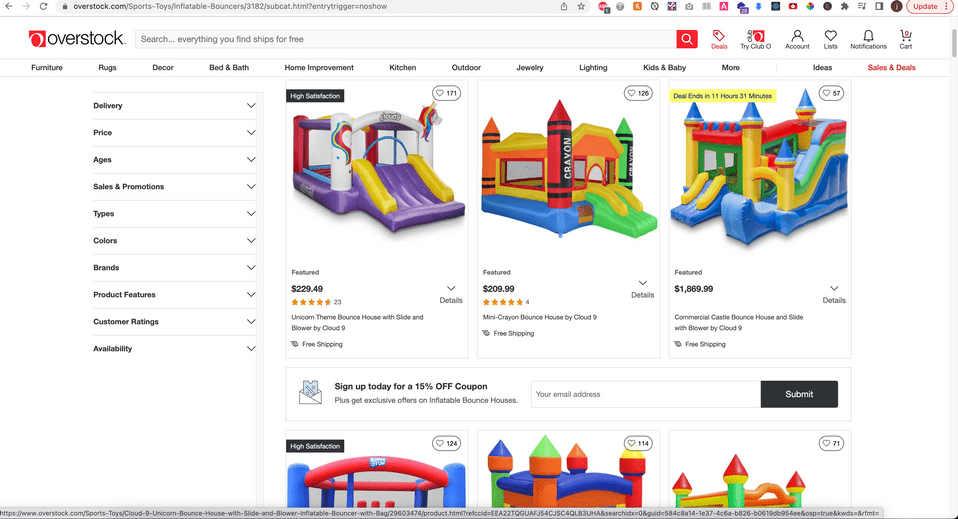 Advantages of starting an inflatble rental business.
Low startup cost: One of the biggest advantages is the low startup cost. You can start small and only purchase a few inflatables to begin with. As your business grows, you can then add more inflatables to your inventory.

Can be run from home: inflatables can be stored in a garage or backyard, so you don't need to rent commercial space.

Flexible hours: since you're in charge, you can set your own hours and work around your schedule.

Fun business: Inflatable rental businesses are unique and fun, which makes them a great option for people who are looking for something different.
How to save money when starting your inflatble rental business?
Start small: as we mentioned before, one of the advantages of an inflatable rental business is that you can start small and only purchase a few inflatables to begin with. This will help you keep your startup costs low.
Look for used equipment: another way to save money is to look for used inflatables and equipment. You can often find used inflatables for sale on classifieds websites or Facebook groups. Just make sure to inspect the inflatables before you purchase them to ensure they are in good condition.
Rent equipment: if you're not ready to commit to purchasing inflatables, you can always rent them instead. This is a great option if you're just starting out or if you only need inflatables for a one-time event.
You can rent transportation as needed or invest in a van or truck when you saved up money from your prior rental inflatble rental jobs.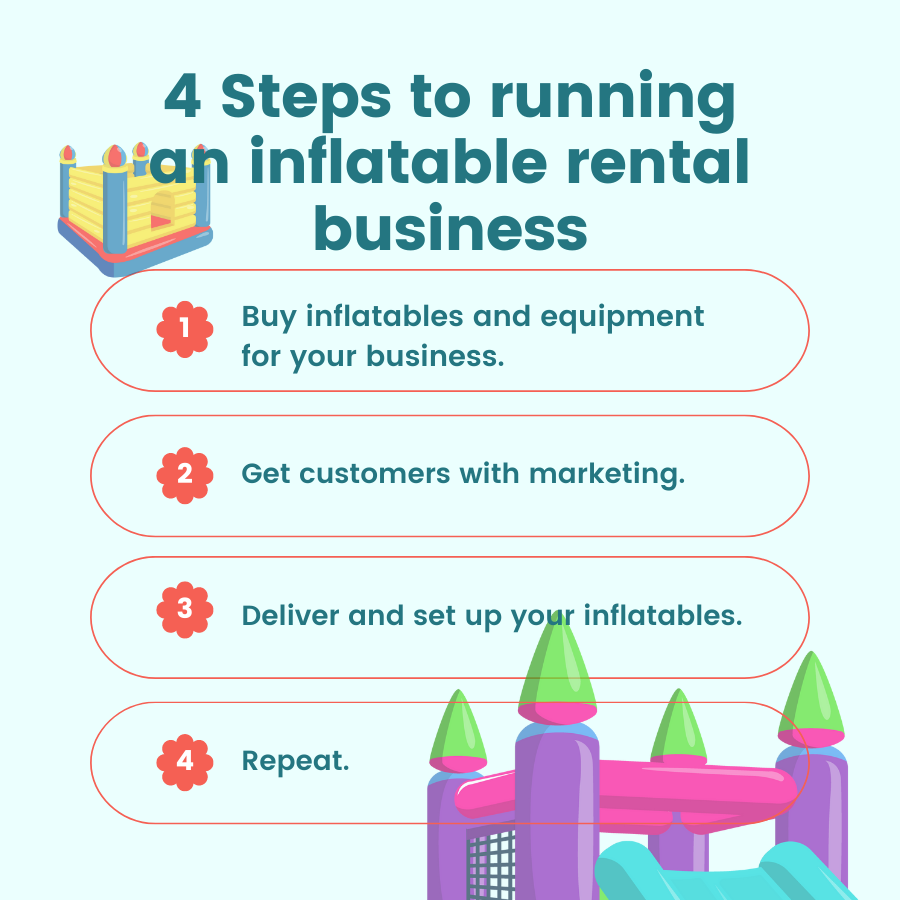 Inflatable rental business customers?
Inflatables can be rented out for birthday parties, school event, fairs, and other events. The demand is always high, so there is potential to make a lot of money.
Schools have special occasions where they want to provide special activities, inflatables are great way for their community to do something fun and you will be providing the fun.
Businesses will also have special events, inflatables can be used for team building or just to have some fun at the office.
Families will want to rent inflatables for birthday parties, block parties, and other special occasions.
Great for all ages: inflatables are suitable for people of all ages, so you can target a wide range of customers.
Can be used year-round: inflatables can be used in the winter, spring, summer, and fall, so you don't have to worry about seasonal fluctuations. You can set them up indoors or outsitde depending on the event.
BE THE INFlATABLE SUPPLIER IN YOUR AREA
GET CUSTOMERS With A WEBSITE.
SHOW OFF your products and services online.
How much profit can you make from renting out inflatables?
The amount of profit you can make will depend on how many inflatables you own, how often they are rented out, and the rental price. Generally speaking, inflatable rentals range from $50 to $500 per day. So if you own two inflatables and rent them out five days a week, you could potentially make $2,500 per week.
Generally, the larger the inflatable the more profit you can make. Larger inflatables can accommodate more users which is more valuable for larger events.
Be sure to do your research on pricing so you're not charging too little or too much. Look at what other inflatable rental businesses in your area are charging and base your prices on that.
How to setup an inflatable like a bounce house?
Before you can start renting out inflatables, you need to know how to set them up. This process is relatively simple and can be done in a few steps.
First, unroll the Inflatable in the direction you wish the Inflatable to face. Unfold until the Inflatable is completely flat and ready for inflation. Then, inflate the inflatable using a air compressor or blower. Next, use stakes or sandbags to secure the inflatable in place.
Usually when you buy an inflatable it comes with an instructions be sure to read it over so you know how to set it up properly.
How many people does it take to setup an inflatable?
It takes two people to inflate a larger size inflatable and two people to secure it in place. However, you can do it by yourself if you need to.
What are the age limits for using inflatables?
There is no set age limit for using inflatables. However, most inflatables are designed for children aged three and up.
How long do inflatables last?
Inflatables can last for many years if they are properly cared for. However, the average lifespan of an inflatable is five to seven years.
Here are a few tips for caring for your inflatables:
Store inflatables in a cool, dry place when they're not in use.
Keep inflatables clean and free of dirt and debris.
Inspect inflatables regularly for holes or tears.
Repair any holes or tears as soon as possible.
Inflatable rental software can help market your inflatables?
Once you have the inflatable rental business up and running, you will need to start marketing your services. One great way to do this is by creating a website for your business. You can use a website builder to create a professional-looking site without any prior experience or knowledge. You can also promote your business through word-of-mouth and by distribute flyers and brochures in your local community.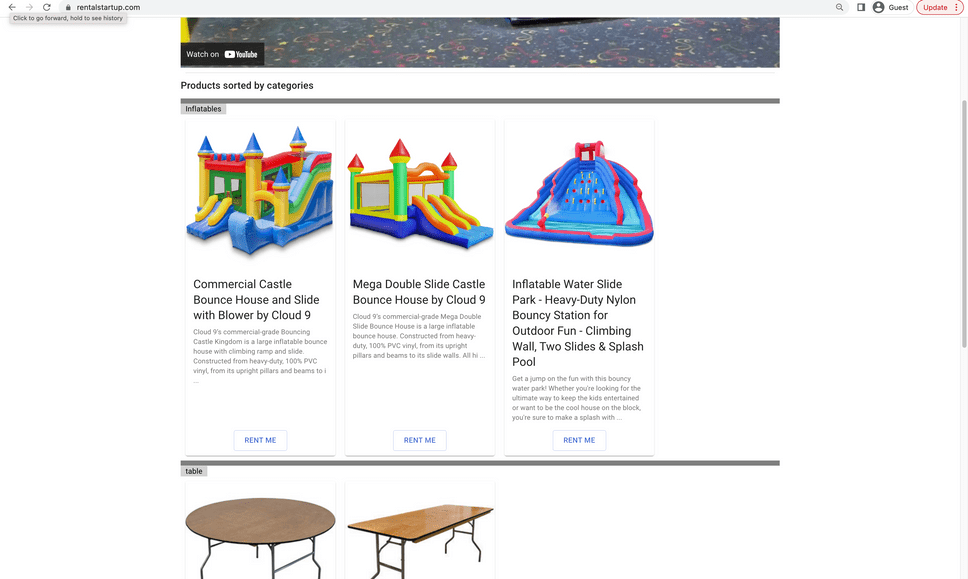 Creating a website will help you market your inflatble business. It will help you reach a wider audience and allow customers to easily book inflatables for their events.
When creating your website, be sure to include key information such as your contact information, prices, and inflatable rental policies. You can also create a blog to share tips and advice on planning events with inflatables.
RentalSetup.com allows you to easily reach potential customers and grow your inflatable rental business by providing you a website where you can showcase your infalables and have customers place orders.
You will be able to manage your customers and rental jobs inside the RentalSetup platform.
You will be able to
Be found from Google searches.
view your inflatbles on a map.
see upcoming jobs.
prevent overbooking of an inflatable.
Accept payments including deposits before a rental jobs.
have your customers sign a libality waiver when they place the order.
and much more
If you're considering starting an inflatable rental business, be sure to check out RentalSetup.com. We can help you get your business off the ground and growing in no time. Visit us today to learn more about how we can help you grow your inflatable rental business. Thanks!
So there you have it—everything you need to know about starting an inflatable rental business. With a low startup cost and flexible hours, this is a great option for those looking for a new business venture. And with a little marketing, you can easily reach potential customers and grow your business. So what are you waiting for? Get started today!