Created : .
Build a website to rent out party tents with a website builder.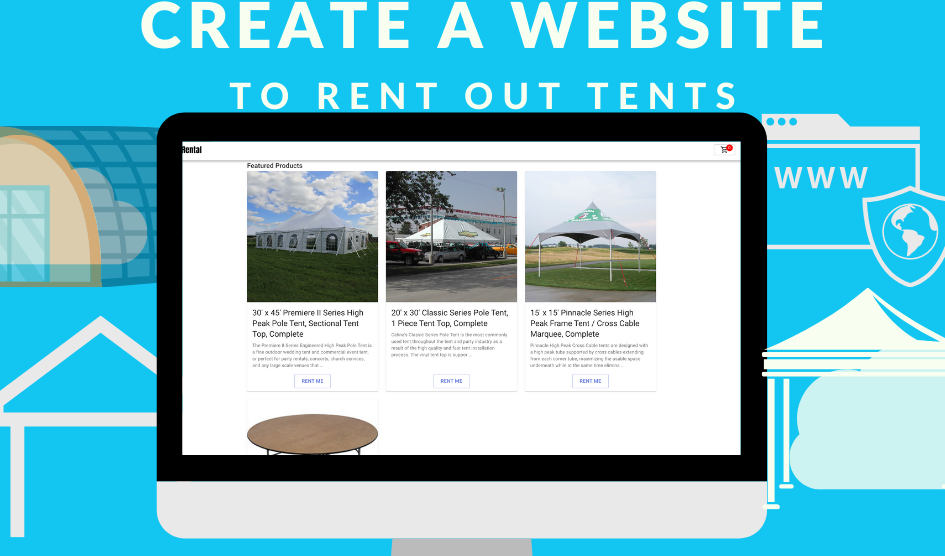 There are different types of party tents available to rent out for a rental business. Some tents are more expensive than others. Prices of tents may vary based on the style, quality, and size of the tents.
Once you picked a party tent to rent out for a party tent rental business, it's best to get a website to help you get customers and manage your business. You can build your website with rentalsetup.com , a party rental website builder. There's a free 30-day trial and a low cost when the trial ends.
This article shows how you can upload your tents to a website builder and have customers place orders.
When you upload your tent you should consider the different types of pricing structures you can use at RentalSetup to rent out products.
The 2 main types of pricing structures for a tent to consider are
Regular rentals(AKA big-ticket items).
variant style products.
Other types of pricing structures for products at rentalsetup are larger quantity discounts and sales.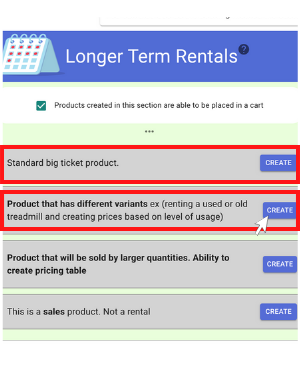 If your tent doesn't have many add-ons or variants you should create a product in the big-ticket (regular) item section. You can make a big-ticket item for each size or style of the tent.
When you make a big-ticket product, customers will only have one product to choose from on the product page when scheduling the tent rental.
If you choose the variant pricing style customers will see different styles on the product page and they will be able to select which tent style they want
So if you have different styles or addons for the same model tent. For example, exterior walls, sturdier poles, or different colors consider making a variant style product. You can make a product for the main tent and it will appear at the top of the page and the customer will see options for "exterior walls", "sturdier polls", and "green color tent" also on the page. You can set a price and description for each variant.

Customers that visit your tent product page will be able to
Provide their contact information
Provide Information on the day or days the tent is needed (event day).
Sign a liability waiver.
Make full payment or deposit.
BE THE PARTY TENT RENTAL SUPPLIER IN YOUR AREA
GET CUSTOMERS With A WEBSITE.
SHOW OFF your products and services online.
You can display other products on the product page to get more rental jobs
Let's say you want to rent out tables and chairs as well as tents. Since customers are looking to rent out tents they are probably throwing an event where they need other furniture for their guests. With rentalsetup you can display other products like chairs and tables on the rent-a-tent pages. This way customers can see what you have to offer and are able to place orders for the extra items.
Use the inventory management system to help you manage your tent rental jobs
You may want to accept tent rental job orders automatically. By doing so you are able to focus more on other parts of your tent rental business like going on deliveries and cleaning the tents after the job.
With RentalSetup, you can have the platform check if there will be a scheduling conflict for a tent order being placed online. You can set it up so that the algorithm can reject orders when there is a scheduling conflict. Of course, you can accept all orders and have the customer place a deposit that you can refund later. If you choose the algorithm to do the overbooking check you can enter the number of days needed to clean up the tent after a job.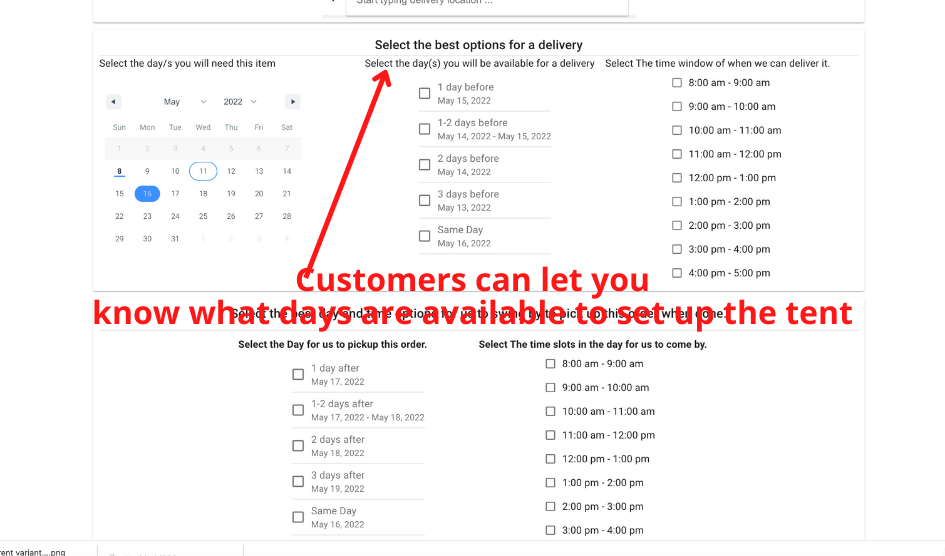 You will also be able to view all your rental jobs on a map and on a calendar
How profitable is renting out tents
You can buy a tent with a wall for $7,000 that seats 200 people. Many events that have outdoor experiences want a tent but don't want to buy one because it's a lot of money. You can charge them $1,000 and you would still be saving them $6,000.
Not counting expenses, after 7 rental jobs, you would be making 1,000 dollars on every job.
You can get multiple jobs a week, which can allow you to make thousands of dollars a week.
Some expenses for a job can be
Hired help - $200
Transportation - $100
Rental Insurance - $50
So $1,000 – $350 = $650 a job.
These are just conservative numbers because it's possible to rent out the tent for more than $1,000. Remember you will be saving the customer a lot of money by supplying the tent to them.
If you do 2 rental jobs a week that's about 1300 dollars being your own boss and working on your equipment.
Different timing options to offer your customers when scheduling rental jobs for tents
When creating your tent product with the platform you can show different timing inputs. You can show a calendar with time slot options. These are mainly for longer-term rentals. A customer can select multiple days or a single day.
Another timing input you can offer your customers is exact time input areas for the start and end of the job. This way the customer can feel comfortable paying only what they expect with timing. Of course, you can make extra payments to their card if it was saved and you have permission.
Let's say you want the customer to choose a start time only and not an end time. This is also called an open timing or metered timing job. You can charge the customer at the end of the job for the amount of time they used the tent.