This article will show you how to create a website for renting bounce houses. You will see how to upload your bounce house and have customers book your bounce houses. This is a great way to rent your bounce houses online.
You can get more customers by putting your bounce houses on a website. People will be able to find you with Google searches and this will increase your chances of increased revenue for your bounce house rental business.
Start building your party rental website today.
Start now
RentalSetup will build a bounce house website for you in minutes
First, you need to signup with RentalSetup. Once you complete the onboarding process , which takes less than 20 minutes, you can upload your bounce houses to a domain created for you. You will get a home page and you will get other pages that are typical for websites like a FAQ page and a Contact Us page.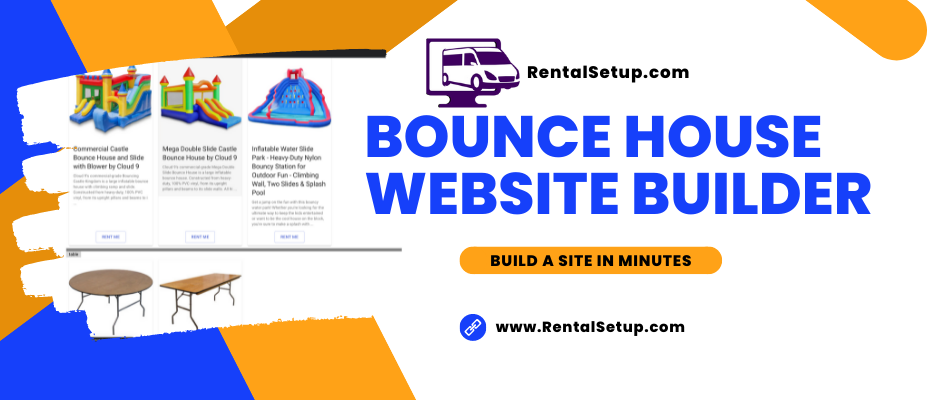 Instructions for how to create your bounce house product page on your website.
Once you are logged in you should go to the "create a new product" to upload your bounce house that will appear on your website. Once you are on the create page you should click the create the product next to where it says "big-ticket product".
Then a dialog shows up and you can enter the details for your bounce house product like a name, description, price, and images.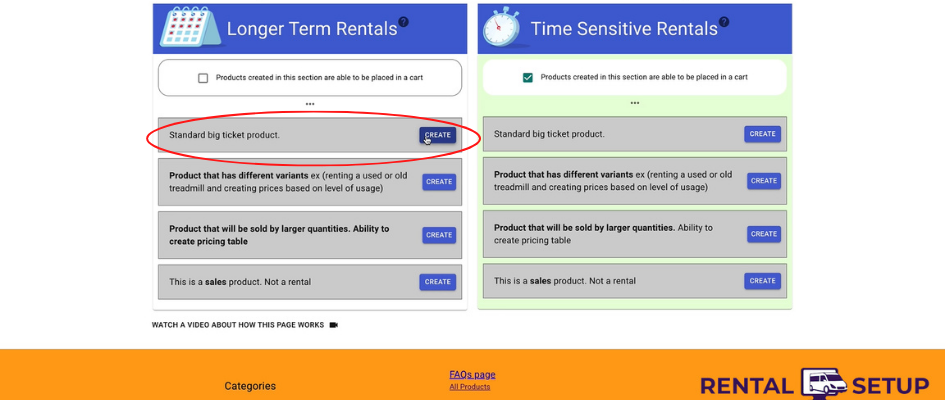 In the dialog box you can customize how your page looks. You can see some examples below.
You can include a pdf waiver for your customers to sign.
You may want to have the customer sign a waiver for liability purposes or for whatever reason. You can make it so that when a customer submits a job they sign a waiver. In the below image you will see where on the create page you can submit the waiver so that it's displayed on the bounce house product page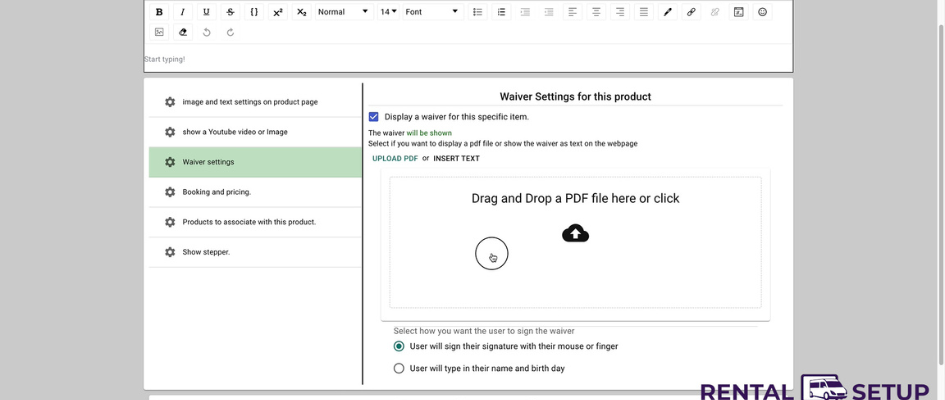 In the below image you can see what the uploaded pdf form would like on the bounce house product page.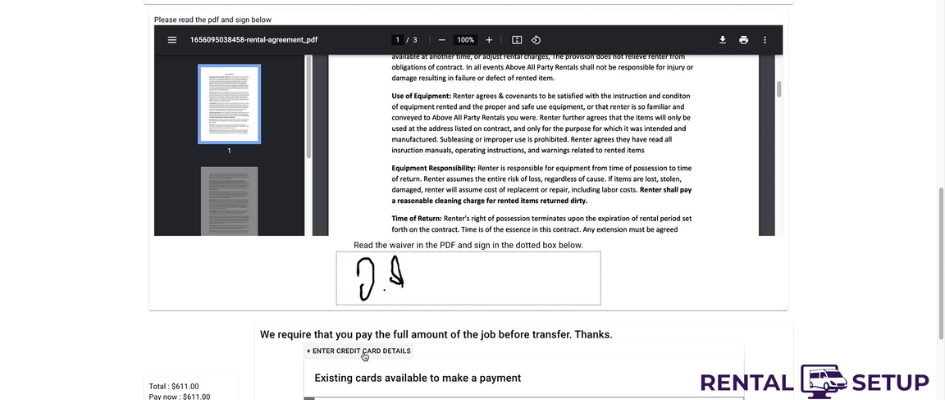 You can include wide banners, images, and Youtube videos on the bounce house product page
You have the option to display banner-type images or youtube videos on the product page. The image below shows how to add a longer-width, banner-type image towards the top of the page.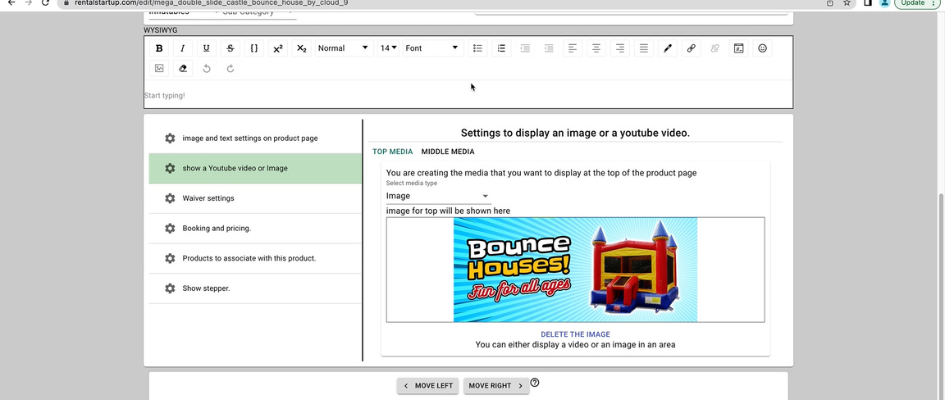 You can specify acceptable delivery areas for incoming jobs
You can enter zip codes for your delivery areas and this would allow you to automatically accept bounce house rental jobs in your delivery areas.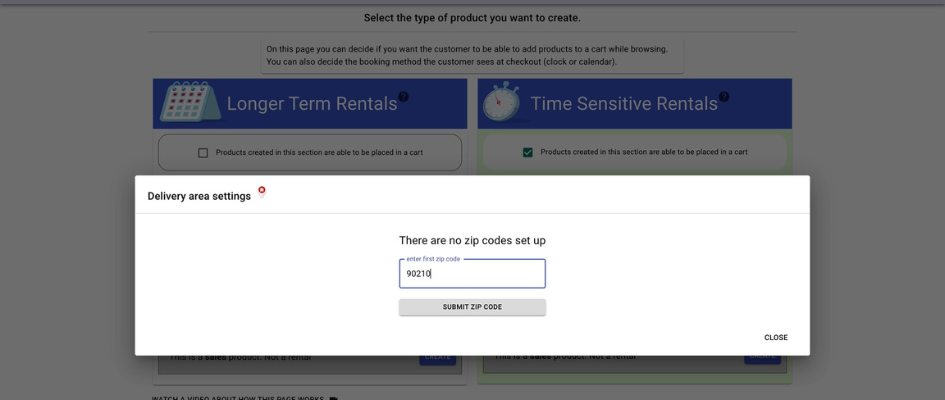 Once you have completed all the steps on the create page, your new bounce house product will be live on your website and people will be able to view it and place orders for it.
The way customers book your bounce houses is by going to your website and filling out a form. The form will ask for their contact information, the date they need the bounce house, how many hours they need it, the delivery address, and any special instructions.
In the image below you will see a form where the customer can enter the day of their event and schedule the time they want it delivered.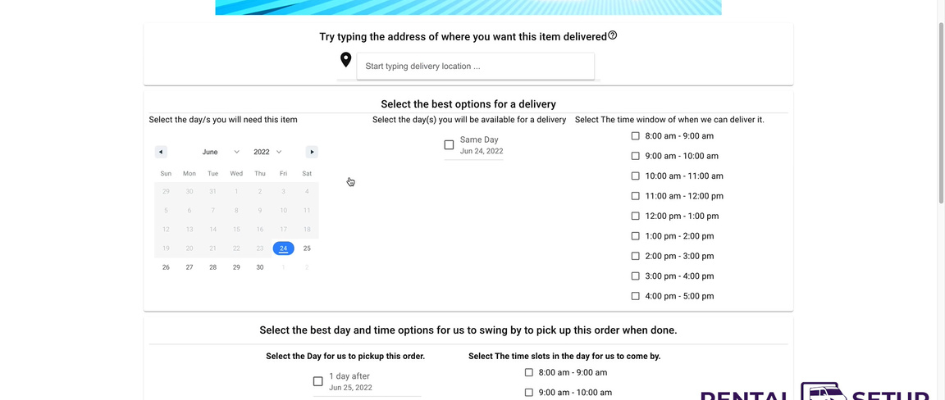 Once the customer submits the form, you will get an email notification about the job and you can either accept or decline the job.
If you accept the job, then the customer will get an email confirmation with all the details about the rental and they will also be able to view their rental information on their customer dashboard on your website.
Once the customer places the order they will be able to create an account where they will have access to a dashboard. An example of the signup form that is shown to the customer after they place the order is shown below.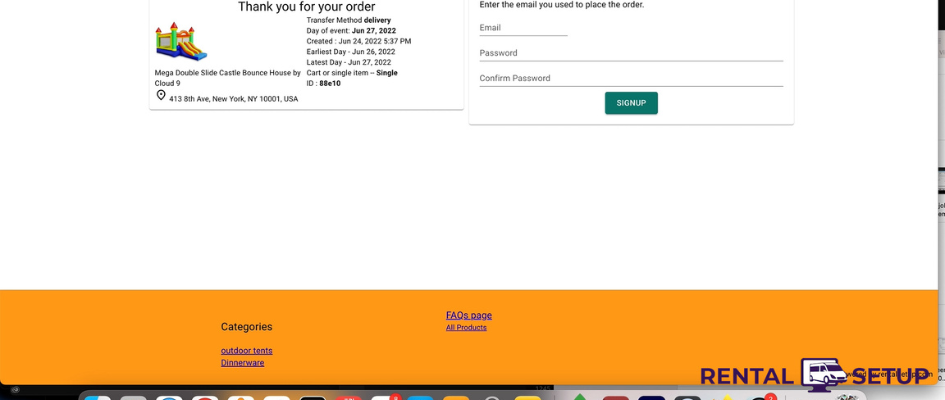 The customer dashboard is where customers can manage their rentals, view their invoices, and contact you if they have any questions.
Fill out the form to start your site.
You can edit job details for you bounce house rental jobs.
If you need to cancel a job for any reason, you can do so from the jobs page on your website's admin panel.
You can also reschedule a job or edit the details of a job from the jobs page.
The jobs page is also where you can view all your upcoming jobs, past jobs, and jobs that are in progress.
You can also filter the jobs by their status (e.g. confirmed, canceled, etc.) or by the date range.
In the image below you will see an example of rows of jobs. If you click on the "open menu" bottom of the job row you are able to edit details of the jobs like payments and delivery information.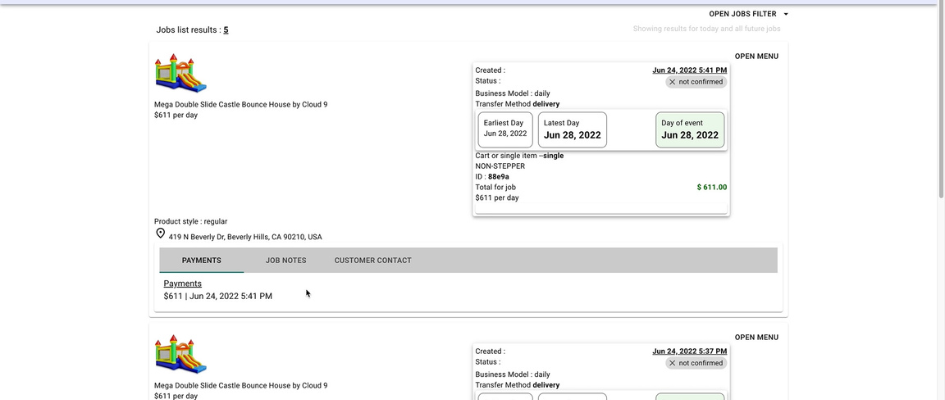 This is how you can create a bounce house product on your website and start renting out bounce houses to customers. By following the steps in this guide, you will be able to create a product page, add all the necessary details, and start accepting bookings from customers. Thanks for reading!
It's understandable why you don't have a bounce house website site up for your party rental business. It can be difficult to get one set up because you have to find the right person to do it for you. With the RentalSetup.com platform, you can build your site for free for 30 days and after 30 days it's only $40. So there is very little start-up cost. so signup today
Bounce house website template.
Are you looking for a quick and easy way to get your bounce house rental business online? Look no further than our bounce house website template. Our template is designed for businesses just like yours, and can be used to get your website up and running in no time.
In addition to being quick and easy to use, our template is also responsive, meaning it will look great on any device. And because it is designed for bounce house businesses, it comes with all the features you need to get started, including:
A built-in booking system
An online payment gateway
A customer management system
You can use our party rental software to manage your business with ease, and our template is the perfect way to get started. So why wait? Get started today and take advantage of our bounce house website template.