Updated : .
Checklist for when you first start using RentalSetup to help you succeed online.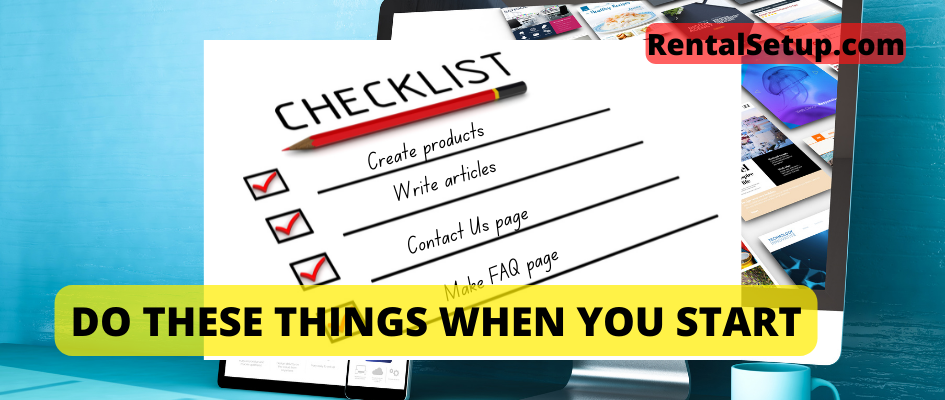 Here are some things that you should do when you first start using RentalSetup. Doing These tasks will help make your site more visible to potential customers and search engines.
One important thing to note is that Google gets most of your information from the text on your web pages, so make sure you include a lot of text that will help Google share your site with searchers. You want Google to know as much about your rental business as possible so they can share your content for relevant searches.
The earlier you do these things the better.
Create a contact us page for your equipment rental business website.
The contact us page is useful for customers being able to contact you and for Google to know about the areas you serve.
You can enter your address, phone number, email, and a message.
When you enter your address on the contact us page a map from Google will be displayed on the page.
Learn more about how to create a Contact Us page for your equipment rental business website
Create a FAQ page
The Frequently Asked Questions (FAQ ) page is a page that combines the most frequent inquiries you receive with their corresponding answers. This page may save you time since you won't need to respond to a question if the answer is already available on the internet. This page can also assist Google in determining information about your site and when to share your content with potential consumers that are searching Google for topics related to your rental equipment business.
RentalSetup website builder makes it easy for you to add information in the footer of your rental equipment website,
Information in the footer will be displayed on all your pages including the home page and product pages.
You could include information in your footer like
Delivery zip code areas
Links for categories of products
Contact info
Custom text message
Custom links
Learn how to enter information in the footer of your equipment rental website
Create content about your rental equipment business
Do you want to rank high in the Google search results? Google likes it when you add new content to your site. Google is looking to show expert content in the search result. One of the ways they evaluate a new site's worth is by seeing whether it updates old information and creates new material on the website.
But the content should be about the topics you know. For example, if you rent out equipment, maybe construction equipment you should consider writing articles about it and when people are interested in reading about renting out equipment, Google may favor your site.
You may write articles about how you assisted your customers, such as delivering items, ensuring they were clean, and so on. Writing articles may help you attract more customers because they will be inspired by your past customer relationship experiences and want to have similar ones.
see how you can create articles inside the RetnalSetup platform
Create products so they are displayed on the front end of your site.
You can't rent your products if you don't create them. But we didn't put this tip first because the other tips are important and should be done too.
You are able to upload several types of products and show descriptions, prices, and images. You can also show products by category.
You will want to take some nice pictures of your equipment and have a description telling renters what they need to know. Use persuasive language to make sure people are inspired to rent from you!
Write about what is included in the rental, any special features, and what is required of the renter.
See how you can create new rental products
Enter your delivery zipcodes if you do deliveries
If you make deliveries, you may want to only accept jobs that are close to your delivery area. You don't want to accept a job that is 500 miles away. You can use RentalSetup to decline rental jobs if the zip code is not in your acceptable list of zip codes for deliveries.
Learn more on how to set up your delivery areas for your rental jobs